We offer you an exclusive experience the Wadi Rum desert with horse-trekking adventures in the valley of the Moon.
Jordan Horse Adventures arranges your all-inclusive horse riding holiday without you worrying about anything.
Astrid Lebon
Born in Brussels Astrid is a horse lover since her young years. She has always been passionate about horses and always owned her own horses. She is a physiotherapist and horse osteopath. Astrid travelled the world and fell in love with the Jordan desert. Since then the dream of creating her own horse trails made its way until the creation of Wadi Rum Horse Adventures in 2020.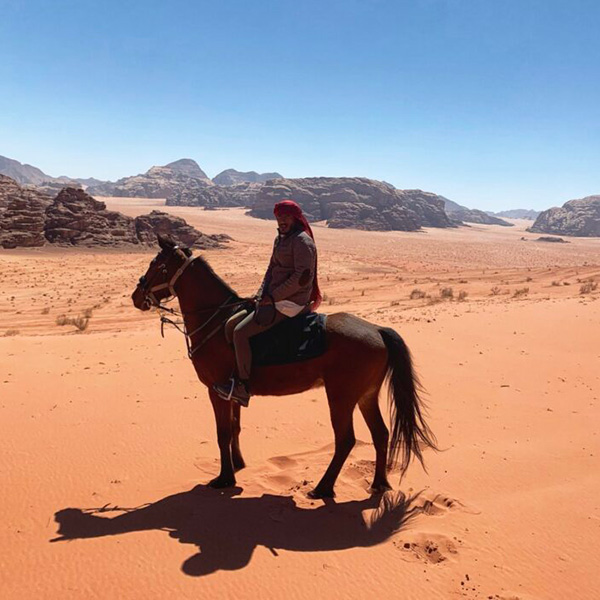 Ali Mohammad
Born in the Wadi Rum desert, Ali is used to guide tourists through the desert. Since 2011 he owns his camp where the riders will stay 1 or 2 nights. Ali loves to share his knowledge and to show the beauties of his desert to tourists from all over the world.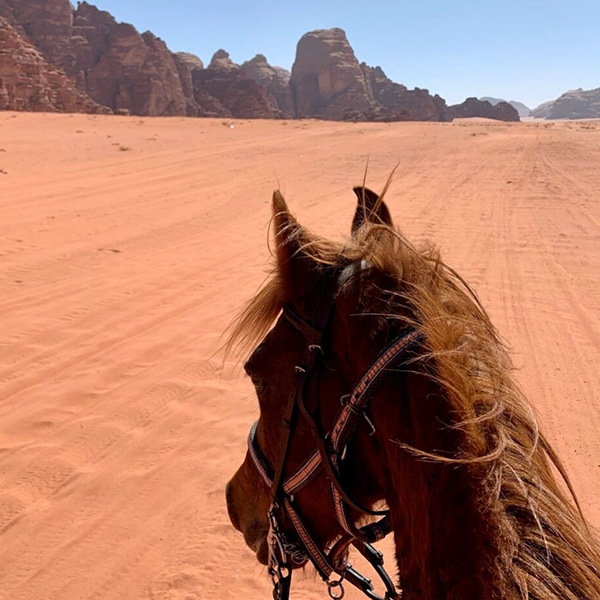 Awel Wahid/اول واحد​
Awel Wahid means first one. She was the first horse we bought for the tours and she needs to be in the front or she gets very nervous. She is a little warrior, what else can you expect from a chestnut mare but shows a softer side when brushed and taken care of.
Najam/نجم​
His name means Star in Arabic. Najam was bought as a quiet stallion. We gelded him so he could be in the same paddock with the other horses. He is a very steady and quiet horse and always looks happy with his little ears pointed forward.
Kabir/كبير​
Kabir got his name because he is the oldest of the group. He is about 10 years old. He always looks good on the photos, head high, ears pointed forward. We bought him so Ali could learn to ride on a very steady horse. Put a good rider on him and he wakes up and is full of energy.
Knafeh/كنافه​
nafah was a crush, cute looking chestnut mare and very sweet like her name. She can be quiet and she can be forward but very easy to ride.
Amir Alsahra/أمير الصحراء
His name means Prince of the desert. This little colt was born the third of November 2020. A foal out of Knafah, hopefully he will have the same sweet character as his mother. When he will be a fully grown horse he will join the rides in the desert.
His name means Arrow. This two year old stallion was given to us as a gift. He is far from being in great shape so first things first we feed him and he will be Amir's little playmate. Curious what character he will have once he will be fit again.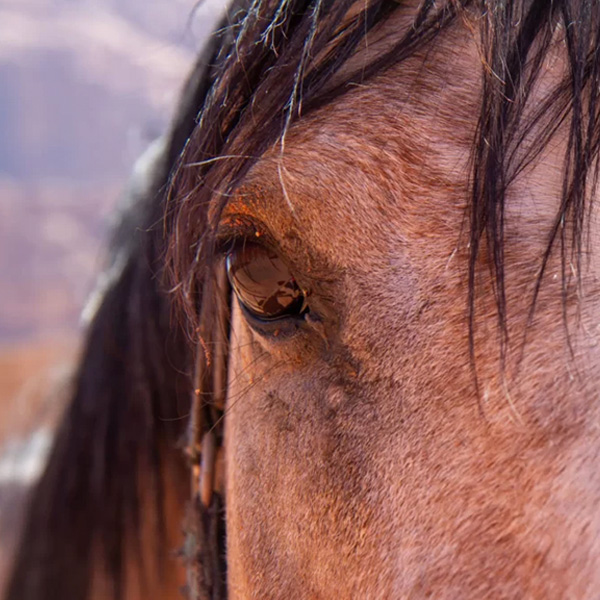 Al Rahib/أل رهيب​
His name means The Terrible. This three year old stallion came to us first on loan and wasn't supposed to stay long. We decided to purchase him so he could stay with us. He is the biggest horse we have at the stables with his 1m62. We will bring him progressively into work so he can still mature and build some muscles.