Randonnée à cheval dans le désert jordanien
Aventures à cheval à Wadi Rum.
Une nature époustouflante et envoûtante.
Lorsque Dieu a voulu créer les chevaux, il a dit au vent du Sud : je vais créer de toi une créature en qui je placerai la puissance de mes amis, l'avilissement de mes ennemis, le rempart des gens qui m'obéissent. – Crée ! dit le vent. Allah prit alors de ce vent une poignée et créa un cheval et dit « Je te nomme et te crée Arabe »
Ressentez la magie du désert de Wadi Rum
 Avez-vous déjà rêvé de monter à cheval au coucher de soleil? Ou de vous réveillez face à la puissance du lever de soleil?
Découvrez le désert de Jordanie de façon autrement. A cheval vous entrez en  contact avec la nature et vous profitez des couleurs envoûtantes du Wadi Rum.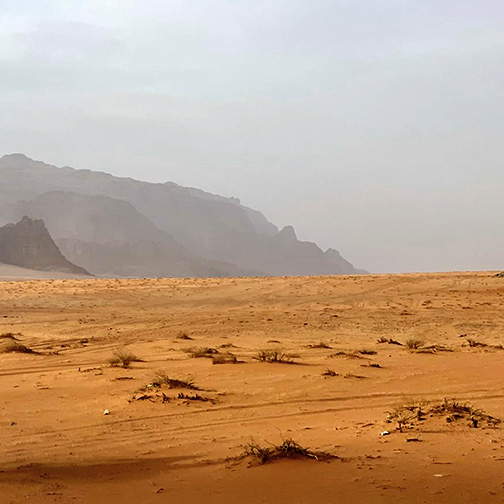 Trail
6 jours à cheval dans le magnifique désert de Wadi Rum. Vous pourrez profiter des paysages au rythme des chevaux...
1 jour à cheval
Au cours de cette promenade à cheval de 5 heures, vous visiterez la source de Lawrence, la dune de sable et le canyon de Khazali ...
1 jour 1 nuit
Il s'agit d'une randonnée à cheval de 5 à 6 heures au cours de laquelle vous visiterez la source de Lawrence, la dune de sable, le canyon de Khazali...
3 heures à cheval
Au cours de la promenade de trois heures, vous visitez à cheval la dune de sable, le canyon de Khazali et la petite arche avant de retourner au village...
Ce qu'en disent nos invités
Nous sommes fiers d'offrir à nos clients la meilleure expérience possible. Lisez ce qu'ils disent.
"One of the highlights of our trip! Ali was a very passionate guide. He took very good care of us and of the horses. He showed us some beautiful places in Wadi Rum. I hadn't been on a horse for a long time, but Ali made sure I could get used to it again at my own pace. You can tell he is very passionate about his job and the desert. The horses are very sweet and it excellent shape. Highly recommend the day ride!"
"We had a 3 hour ride and it was one of the highlights of our trip. The horses are very well cared for and wonderful to ride. Ali was great. We got to trot and canter, but the horses' welfare came first which was reassuring and perfect. The sound of hooves on sand is one of my new favourites. Astrid sorted out the booking which was easy and straightforward. I'd recommend booking directly with Wadi Rum Horse Adventures because then they get all the fee rather than your accommodation taking a cut. Feeding the horses can't be cheap."
"We went on a 4 hour ride with Ali, I have to say it was my most remarkable time in Jordan, the scenery was breathtaking, and the horses were in a really good shape. My friend had never ridden a horse before, and he could get a horse that followed Ali all the way, so we could feel completely safe during the whole trip, while there was plenty of opportunities to try trotting. We visited the famous Khazali Canyon and the Sand dunes, both were definitely worth the time. It was great riding with you, and special thanks to Astrid too, who helped a lot with the organising and answered all my questions very quickly. Hopefully we can do the overnight version some time in the future! :)"
"I rarely leave reviews but wanted to let you know what a fabulous experience we had on our one day horse trek with Ali and an over night stay at their camp. We are experienced riders (2 adults and young teenagers) and we loved it. Ali was excellent at ensuring our safety yet allowing us opportunities to cantor and gallop. The food was wonderful and catered for our vegetarians too. I would really recommend the overnight stay at the camp. excellent toilet/shower facilities and huts. a fire, music and chat. Would def go again and hope to. Many thanks to Ali and the team."